A Glance Towards 2022 Promotion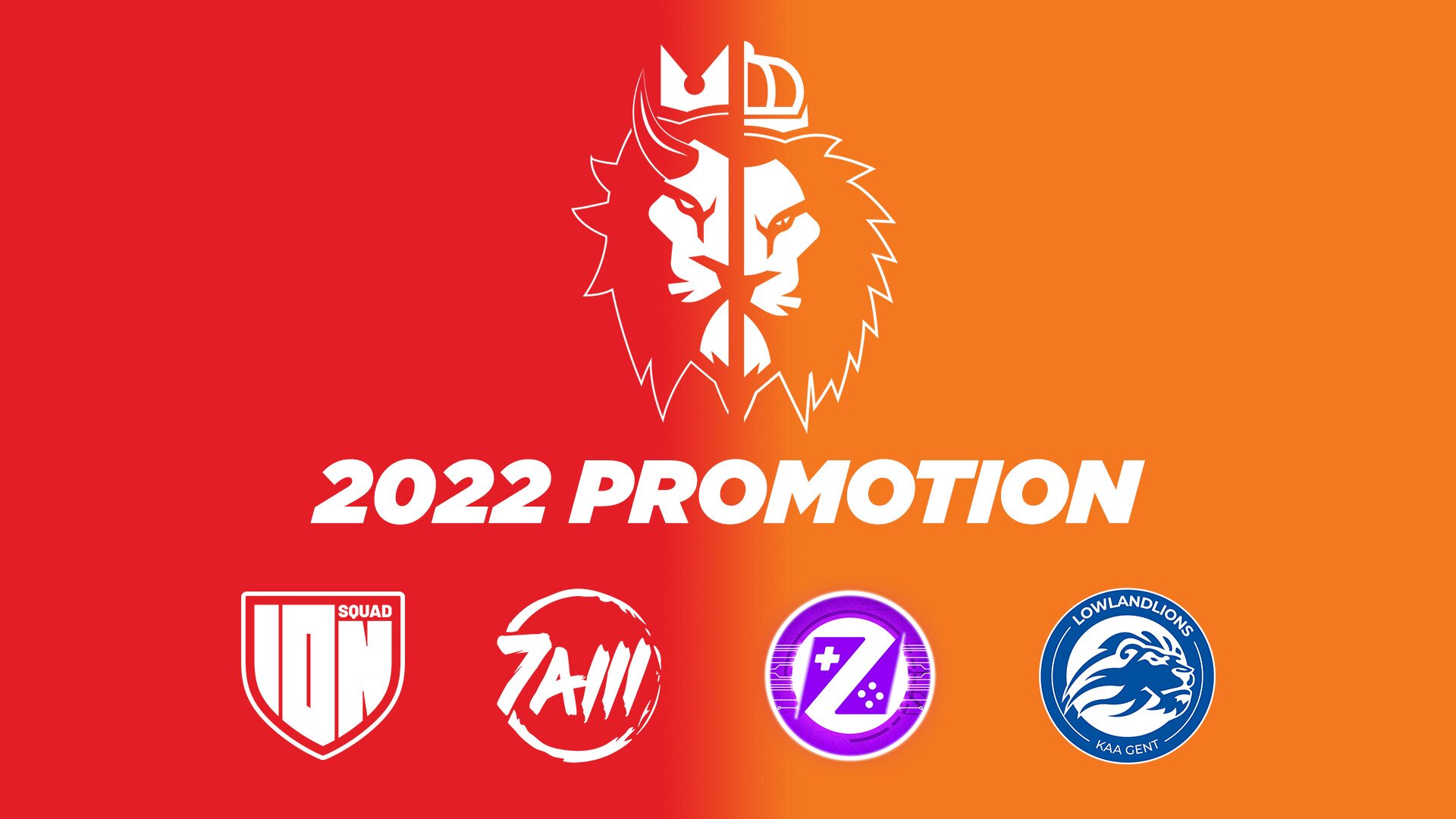 As previously announced, following decisions taken by Riot Games in an effort to improve sustainability, 2022 will mark a pivotal year for the European Regional Leagues within the ecosystem. Due to the announced changes, our leagues are now in the process of merging, inevitably causing changes within participants for the upcoming Benelux ERL (updated name and branding to be shared at a later date).
TL;DR: 4 teams participating in the 2022 Promotion (LowLandLions, Team 7AM, ION SQUAD, ZennIT Gaming) to take place on 23, 24, 28, 30 and 31 October. Top 2 qualifies into the Benelux ERL.
Currently categorized as a Non-Accredited ERL (see lolesports announcement), we currently are faced with the reality of having to reduce our participants to 8 and have to cut back on 4 of our previous teams. After many discussions it was decided fairest to hold a promotion tournament (coined the "Battle Royale") in which the 3 bottom teams from both leagues would be given a chance at 2 spots within the upcoming Benelux ERL.
Understanding Riot's efforts toward building a better future for its lower European divisions, we've decided to make a push toward elevating the Benelux and replaced the previous application procedure with a set of "Minimum Criteria" (see previous article). These criteria are based on various key elements from the original application sheet, the feedback we have received on its process throughout the year, and ultimately shaped by the status quo of already participating organisations. The goal of these criteria is to ensure that any Benelux ERL participants are viable on a long term basis and can join us in creating a better and sustainable environment and path toward improving the ecosystem and becoming an Accredited ERL.
Sadly, as the organisation of the promotion tournament was greenlit and started advancing internally, some of our previous long standing organisationsdecided to pull back on their participation within our upcoming Promotion Tournament:
Dynasty: One of the longest standing actors within the Benelux, Dynasty themselves have announced on the 12th of October that they would be leaving contention towards the upcoming Benelux ERL. One of the oldest standing organisations in Benelux League of Legends, Dynasty (previously known as New Dynasty) has always been an incredible asset to the region from their stellar entry in 2018 to their stunning developmental rosters, fostering new local talent like none others. Their legacy within the Dutch League is surely one to be remembered and will not be forgotten. Today we are not bidding them farewell, instead, we are saying see you soon. It is without a doubt that the organisation will rise anew and show once more the talents this region has to offer.
Team THRLL: Home of stellar results in the Open Tour Benelux and several Dutch League appearances, THRLL may have had a tumultuous legacy as they've reached the highest highs of 1st place but also lowest lows of 6th place and yet, they have without a doubt brought professionalism and strong dedication throughout their stay in the region since their acceptance in the Dutch League in 2020. The blue and white banners of THRLL will continue flowing over the history of the league as time moves on and the players they've helped build up will continue burning bright like shining stars. It is without a doubt that the staff and talented people behind THRLL can rest easy with all they've done for the region and their players.
Starlan Gaming Club: While their stay within our League was short, Starlan's sudden meteoric rise through the Open Tour straight into the Belgian League is surely one that will be remembered and was felt by any fans of the League. Coming straight out of the blue and defying all expectation, the Walloon organisation has pierced their way through the competition, coming one game close to a 1st place finish within the Open Tour and rising up to the Belgian League as a spot was freed and the opportunity for them to prove themselves arose. Simple numbers and standings cannot describe the impact that the team had upon the later league, coming close to defeating several favorites within the tournament and barely missing out on playoffs in the end. For all their involvement in our ecosystem, all we can say now is "Merci pour tout ce que vous avez accompli! Du fond de nos cœurs, nous espérons plus que tout vous revoir bientôt".
Sadly short paragraphs like these simply cannot express how thankful we are to each of these teams whom we not only considered partners but also friends. We also want to thank all teams who have participated in previous splits of the BL & DL and left us along the day, this includes: 4Elements Esports, Aethra Esports, Brussels Guardians, RSCA Esports, and Timeout Esports.
What's next for these teams?
As was originally planned with the promotion tournament, all teams that would not qualify to the Benelux ERL in 2022 would receive invites toward our newly reimagined Open Tours for which we have more thorough announcements and information to share down the line! As such, all teams that have declined participation in the promotion tournament have received direct invites into those tours and will be given the chance to bypass qualifiers. Fans of Dynasty will rejoice knowing that the organisation have already confirmed interest in participation for these tournaments over the course of 2022 and will continue building grassroot regional talent! Participation of other non-qualified teams will be confirmed at later dates as we keep on working with involved parties behind the scene. Stay tuned for more information to come!
And now a look into 2022 Promotion participants
With that out of the way and 3 of our invited participants pulling out, let's touch more upon the promotion tournament and its participants. As one may expect, the tournament has been vastly re-imagined since we last mentioned it. To bring everyone up to speed, the remaining participants are as follows: ION SQUAD, LowLandLions, and Team 7AM. These teams are now readying themselves to compete for the two remaining spots within the upcoming Benelux ERL.
In our last article, we've also announced consideration of inviting additional team(s) that had previously competed within the Open Tour Benelux and invested and shown commitment within our ecosystem. After careful deliberation, we are happy to announce that ZennIT Gaming will be joining the 3 previously announced participants in the race towards a spot in the 2022 Benelux ERL!
But when is it being played?!
The tournament will officially start on the 23rd of October at 14:00 the week after the end of the Dutch League Country Finals. The competition will begin with a double best of one round robin within all 4 participating teams over the 23rd and 24th of October. This group stage has the goal to create a robust seeding and allow for experimentations for the teams ahead of the next phase of the tournament. Set to start on the 28th of October, the four teams will then be seeded into a best of three double elimination bracket stage which will put the 1st seed against the 4th and the 2nd against the 3rd. Teams winning their first round of matches will be put directly into a qualification match towards the Benelux ERL 2022 on October 30th. The loser of that match will have a second chance towards qualification as they will face the winner of the confrontation between Round 1's losers coming from the lower bracket, closing out the tournament on the 31st of October. A full detailed schedule may be found below:

Saturday 23 October 14:00 – Groups Round Robin #1
Sunday 24 October 14:00 – Groups Round Robin #2
Thursday 28 October 19:00 – Playoffs Upper Round 1
Saturday 30 October 14:00 – Playoffs Lower Round 1 + Upper Round 2 (Q)
Sunday 31 October 14:00 – Playoffs Lower Round 2 (Q)
With the tournament quickly approaching, we are still settling down details about the organisation and working hard internally to do justice to all participating teams and create a good and fair environment for them to compete. Teams will be granted the chance to hold community streams and cover their own runs as they progress through the tournament so keep an eye out for their socials in order to follow the tournament! As our production team is currently hard at work on the country finals of both the Belgian and Dutch Leagues, they will be taking a break following their conclusions and will not be providing an official broadcast for the promotion tournament. We fully trust in our teams' capabilities in providing professional and fun coverage of the 2022 Promotion Battle Royale! Stay tuned for more announcements regarding the 2022 season to come in the next few weeks.